It's A-L-I-V-E ! ! !

Need Help??
460 '88 Stang
Supercharged '89
4cyl Turbo 89

Videos
Turbo VS Supercharger
Engine Theory
Fast Friends

Credits


Well after 2 and some years of accumulating parts, changing my mind about what car to put it in, and then actually getting some work done, my Incon TT 5.0 is up and running. I was too lazy to update my web page, but I was bored today ;). Obviously this is not the Capri that I was going to build, but its an '89 ex-4cylinder car. It's got power windows/doors and a sunroof!

The car is running, but the body still has not been addressed, and the suspension still needs to be fully upgraded. I guess I will show you the 'finished' product first, my best timeslip, my dyno graph, and then I'll go into some details. If you want more information about the turbo system, there are some usefull links at the bottom of the page.

Make sure you check out the videos section, there are 2 short videos there so you can hear the turbos....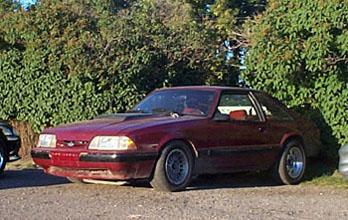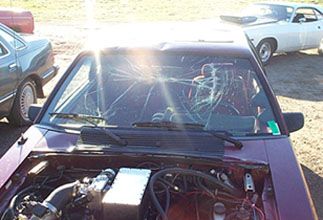 The 'Beater', and a pic of my little 'forgot to latch the hood' accident!
Notice the timeslip!! A 12.165 at 125.57mph. AWESOME, because that was in Calgary at over 4000 feet, just the way the car looks below, with REAL street tires, through a C4 with stock converter, 3.27 gears, and on 92octane pump gas!! Look at the 2.3 sec 60 foot...

This is an old slip from 2000. This year, I have gone a best of 12.0@127.2 with the auto. I recentl;y switched to a Tremec, and ran 12.3@126mph on street tires, and 11.7@125 mph on ET Streets, still spinning hard in second and third gear!!

The MPH indicates serious potential.

Above ....My little accident :( .... The hood flew open while I was racing a supercharged and intercooled LT1 Camaro. We yanked the hood off and I raced him anyway...had to show em who was boss ;~).

Below is a dynograph of the car just the way I drove it off the street, and a pic of the 'new' hood after the accident.
| | |
| --- | --- |
| | Almost 500rwhp, and a torque curve as flat as Saskatchewan. The car really PULLS from any rpm. Man it looks like a beater eh?? Body damage, mismatched rims....almost embarrassing to drive .... if it wasn't so damn fast! The car drives almost like a stocker. The power is incredible. |
Incon Twin Turbo Kit

Soooo, what makes this turbo kit so great??


•Emissions Legal
•State of the Art Ball Bearing Turbo's
•BIG Intercooler
•Complete with hoses (not shown), stainless steel hardware (not shown), Plug Wires, calibrated blow
through MAF etc
•UNPARALLELED before or after sale SERVICE (Thanks to Dave Inall and Tom Porter for putting up with me)
•400rwhp from a STOCK motor.

The kit requires a small frame rail notch to accommodate the passenger side turbo, see Bob Cosby's install page for complete install details.

You don't have to relocate your battery and your stock H-pipe bolts right up!
To the left is the honing stand I made. The block was not overbored, since I wanted stock pistons. My good friend Rick did the hone work, and we ended up with about a .005" piston to wall clearance. After Rick honed it, I cleaned the block and took it home to assemble it.

The pic on the right is the assembled short block. It is built fairly tight with .0022" main clearance, and .0017" rod bearing clearance. Thrust was right around .010"

Note the motorsport windage tray, and Canton crank scraper on the side pan rail.

After that, it was just a bolt on affair....the complete motor is to the right....pretty cool huh?



The "Combo"
•1989 short block, stock rods, pistons, crank
•F303
•Edelbrock Performer Cylinder heads
•ARP rod bolts/ head studs
•Custom box intake has been changed to a TFS Track Heat
•1.6 roller rockers and conversion kit
•70mm Throttle body
•Motorsport 36# injectors
•Walboro 255lph intank pump + 255lph external pump
•Stock fuel rails, 3/8" fuel line
•Motorsport SFI balancer
•3" Exhaust/Ultra Flow mufflers

Drivetrain
•Tremec 3550 Trans
•King Cobra pressure plate
•Custom made dual friction disk
•Stock 8.8" diff, 3.27 gears
•Centerline 16x8 wheels

Suspension
•GT convertible front springs
•Stock V8 rear springs
•Tokico 5 way struts/shocks
•Tubular lower rear arms
•HAL K-Member
I did get rid of the TFS cam, and after going through 4 c4's, I put in a Tremec. I have a hood now, it is a traditional cowl hood. I bought it used, so it needs a bit of work. The plans for the winter include a simple check of the motor, new adjustable wastegate actuators, and maybe some selective 'lightening'. It still need paint badly, so If budget allows, I will do that.
I have everything I need for the stereo install, and am just waiting for some warmer weather. The motor will be coming out of the car in the next few days. While its out, I will port the heads, change the cam, and reassemble it. I would like to see about 580rwhp in early spring, and 11's at about 130mph in the quarter, on REAL street rubber. I'll try and keep this page updated as things get done....
Some links for you.... www.inconturbo.com and another good one is the mailing list where you can talk to Dave Inall, Incon's designer http://groups.yahoo.com/group/Incon .Also, if you wan't to have a go at building your own turbo kit, the DIY turbo egroups can help. Ltos of guys on there building their own systems....check it out http://groups.yahoo.com/group/jyturbo . Here are some personal pages of other guys with incon kits or other turbo related stuff:

•Bob Cosby's Page
•Cody's Twisted Twins
•Darren's Webpage
•Josh's TT Incon Mustang Page
•Paul Mustang Page
•Nick's Cartech Turbo Mustang
•TurboDan's Turbo Tech kit
•Mike Sitar's DYI Turbo/Supercharging projects
If you would like your page added here, email me!